Det här projektet beskriver hur man kan designa ett avancerat hemautomatiseringssystem med enkel och billig teknik genom att använda sensorer för Wi-Fi, IR och Bluetooth teknik. Enheterna kan slås på/av med hjälp av fjärrstyrd IR teknik, persondator (PC), Android (eller) iOS-applikation via Wi-Fi & Bluetooth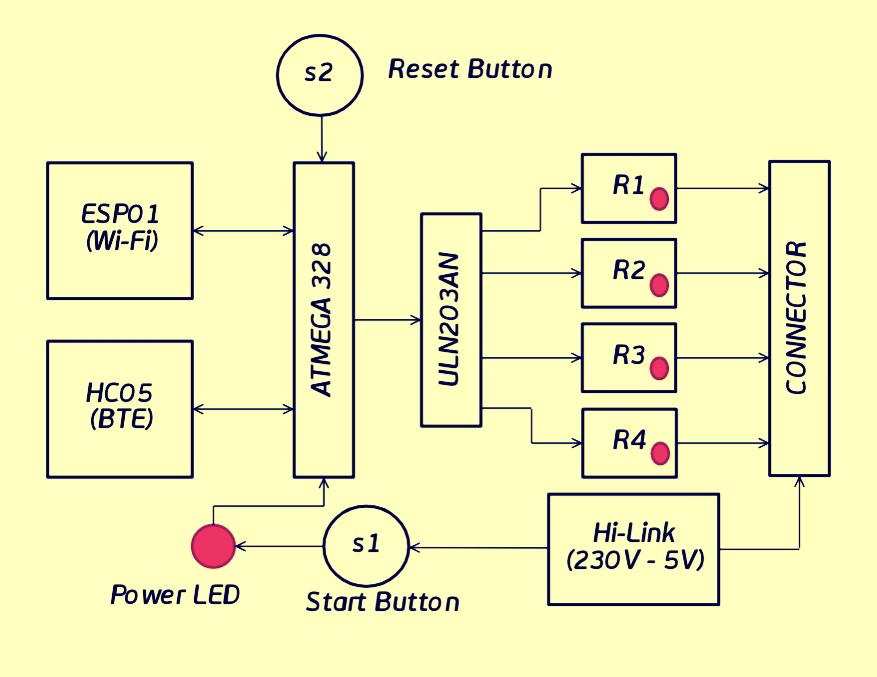 Funktionerna i detta projekt inkluderar Wi-Fi, Bluetooth och Internet-baserade interface med låg strömförbrukning, kontroll av hög- och lågspänningsenheter och som har lång livslängd.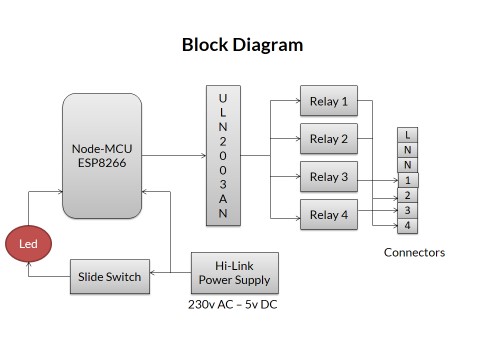 Komponenterna i detta projekt är Node-MCU ESP8266. (Wi-Fi-modul), ULN2003AN Relay Driver IC, 5V Relay, 230V – 5V strömförsörjning, skjutomkopplare, Power LED.
(finns att beställa på nätet) Detta kan användas bland annat till att kontrollera belysning, luftkonditionering, ventilation, uppvärmning, bevattning, köksapparater och olika säkerhetssystem.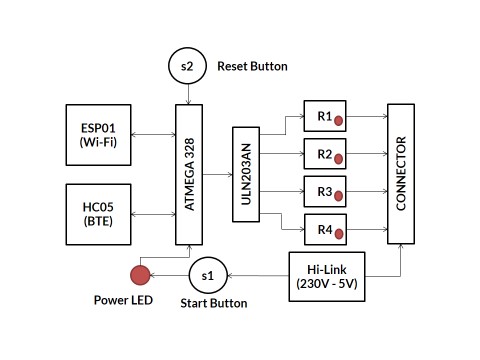 Hur gör man?
Ladda ned mjukvara eller app till modulen ESP8266 Ansluta ESP8266-modulen till din mobiltelefon eller bärbara dator med en datakabel. När du har anslutit den kommer modulen att stå på ON. När modulen är ON hittar vi den under Wi-Fi-anslutning med användarnamnet Smart control. När du ansluter till den smarta kontrollen så öppnas en sida för smarta kontrollen. Klicka på konfigurera Wi-Fi så visar det närmaste Wi-Fi eller hotspot, anslut till närmaste nätverk.
Now open the app in our mobile which is named as ESP8266 Wi-Fi control. When we open the app it will ask an IP address of our Wi-Fi hotspot network that we connected before. The IP address of that network will be displayed on Mobile APP.
Öppna nu appen imobilen som heter ESP8266 Wi-Fi-kontroll. När vi öppnar appen kommer den att fråga en IP-adress till vårt Wi-Fi hotspot-nätverk som vi anslutit tidigare. IP-adressen för det nätverket visas i Mobilappen. Skriv den IP-adressen i vår app och ange portnummer som 80 och klicka på spara alternativ. Nu öppnas hemsidan. Då kommer det att visas fyra glödlampor. Om vi klickar på varje glödlampa kommer glödlampan att vara ON. Om vi klickar igen kommer det att vara OFF. Nu har vi skapat en enhet som gör att vi kan automatisera användandet av vår belysning.